Master's Summer Diary
The Master's Summer Message
The Worshipful Company of Farriers has again been able to hold the Livery Banquet at Mansion House with the Lord Mayor and Lady Mayoress amongst our many guests in that most splendid of venues. It was fitting to see so many distinguished members of the veterinary and farriery professions that evening, along with representatives from all of our affiliated military units and many personal guests. The Middle Warden welcomed everyone most eloquently as the first speaker and I am grateful to the Vice Dean of Jersey, the Reverend Canon Geoff Houghton, who had flown over from the island with his wife especially to join us, for replying on behalf of the guests.

The Company's Best Shod Horse Awards reflect upon the important work of this Company and I am indebted to our Awards Secretary for cueing up so many opportunities to showcase the Company across the Shire horse, racing and other categories at county shows as well as for the all important farriery competitions. I was fortunate indeed to present the Best Shod Horse Award at Badminton Horse Trials in May, alongside Past Master HRH The Princess Royal, to Oliver Townend an Olympic champion whose horse for Badminton was shod by Jim Blurton, a World Champion Farrier.

​​​​​​​I hope you all enjoyed the four days celebrating the Monarch's 70 years on the throne, her horse knowledge is second to none and we are privileged indeed to live in her reign. Special for me was to see The Queen's Birthday Parade again after a gap of three years; my congratulations go to all those in The King's Troop and the Household Cavalry Mounted Regiment, both affiliated to our Company, which performed magnificently.

As the months tick away through my Master's Year, I have to say what an honour it has been to represent you all. It is indeed a privilege to help to steer this Company and (although doubtless every incumbent will say how busy it has been) there is much being done as we now look to finalise with our Registrar delivery of the End Point Assessment for the farriery apprenticeship, start again our examination programme overseas and ramp up our important CPD offering with the recruitment of a new Craft Secretary.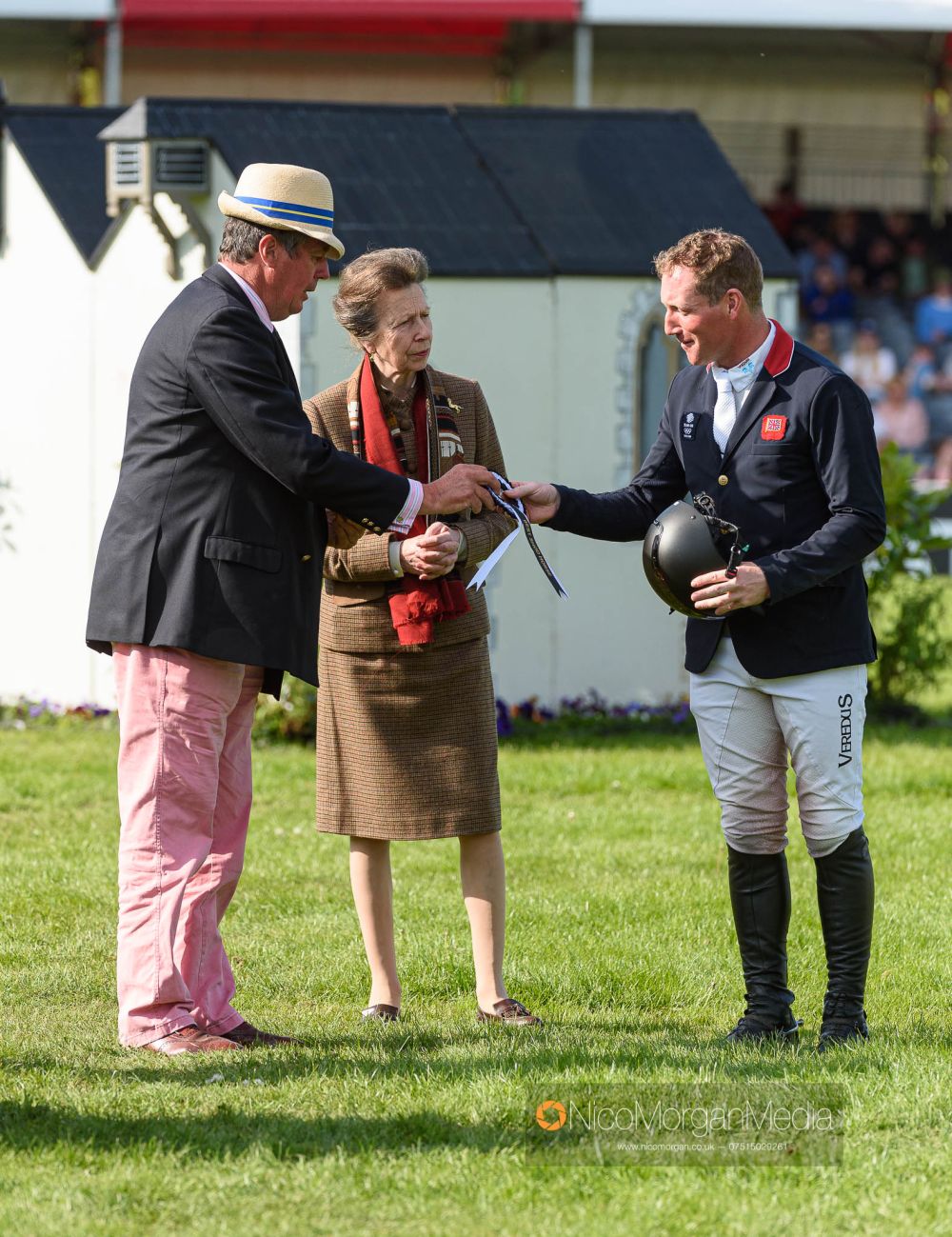 This summer sees presentation ceremonies at Saddlers' and Vintners' Halls, celebrating the recent successful Diplomates, Associateships and the award of Fellowship Gold Medals and finally catching up with the cohorts who achieved success in the Company's examination over the previous two years when we were unable to gather in person. My full and hearty congratulations go to them all.
​​​​​​​
I hope you and your families have an enjoyable Summer.
The Master's Spring Message
The lengthening days tell nature that new life should begin again, even if it's not getting much warmer. We all hope that life can begin again as we see the tail lights of the Covid pandemic recede but, doubtless, some restrictions will continue and individuals will choose their own way forward. I hope you and your families have kept well and are all able to enjoy 2022.

After an enforced two year gap, our Diploma Presentation Ceremony, held at the headquarters of the Honourable Artillery Company following a church service in the lovely Wesleyan church opposite in City Road, saw Diplomas awarded to 28 newly qualified farriers and a further 4 individuals being awarded their Associateship. There is no doubt that this is a memorable day for students, friends and families alike and the Company strives to make it as personal as possible; the presence of the flamboyant Pikemen and Musketeers gave outstanding photo opportunities and all recipients are warmly congratulated on their achievements.

Our Livery Committee has swung back into action again with a visit to Sandown Racecourse in March, followed in April by a planned visit to the Royal Stud at Sandringham with a tour of the house - which sold out in what seemed like minutes! A big thank you to all on the Committee for providing that extra colour that our fellowship needs and appreciates. Opportunities for clay shooting enthusiasts are once again provided, with a 'Rusty Guns' day at the E J Churchill ground in High Wycombe open to Liverymen, Freemen and guests, an excellent warm up for the Inter Livery Clay Shoot the following month.
​​​​​​​
Life for Livery Companies is certainly 'kicking off' once again and I was privileged to represent the Worshipful Company of Farriers with my wife at the HAC Mess Club Civic Dinner in the company of the Lord Mayor and the Sheriffs together with the Masters of many City Livery Companies. I have dined with both the Vintners and Saddlers Companies in their halls and the Clerk and I have enjoyed invitations from other livery companies, including as a guest of The Worshipful Company of Blacksmiths at their Ladyday Luncheon. A most unusual occasion was to dine in The Indian Army Memorial Room at The Royal Military Academy Sandhurst at the Army Equitation Association Awards Dinner.

One of the pleasures of the Master's Year is being able to select in which halls to hold our luncheons and dinners. Some fulfil a regular pattern but the Court Dinner in Armourers Hall provided a memorable visit and I know many of you will have enjoyed our March Court Luncheon in Grocers Hall which we have not visited for a number of years when Mrs Kady Chatman spoke movingly about the work of the Riding for the Disabled Association.

Tradition continues with the Master being invited to present the Championship Best Shod Award at the Shire Horse Show, this year held at Newark Showground. I am looking forward to being able to both represent the Company and further publicise its aims at more horse shows this summer.
​​​​​​​
Finally, I would like to pay tribute those farriers and other members of the Company who have donated in kind or otherwise towards relief of the crisis in Ukraine. Along with other livery companies, The Farriers Company have donated to the Disasters Emergency Committee (DEC) and we will continue to look at how the Company might support equines in that country in the future.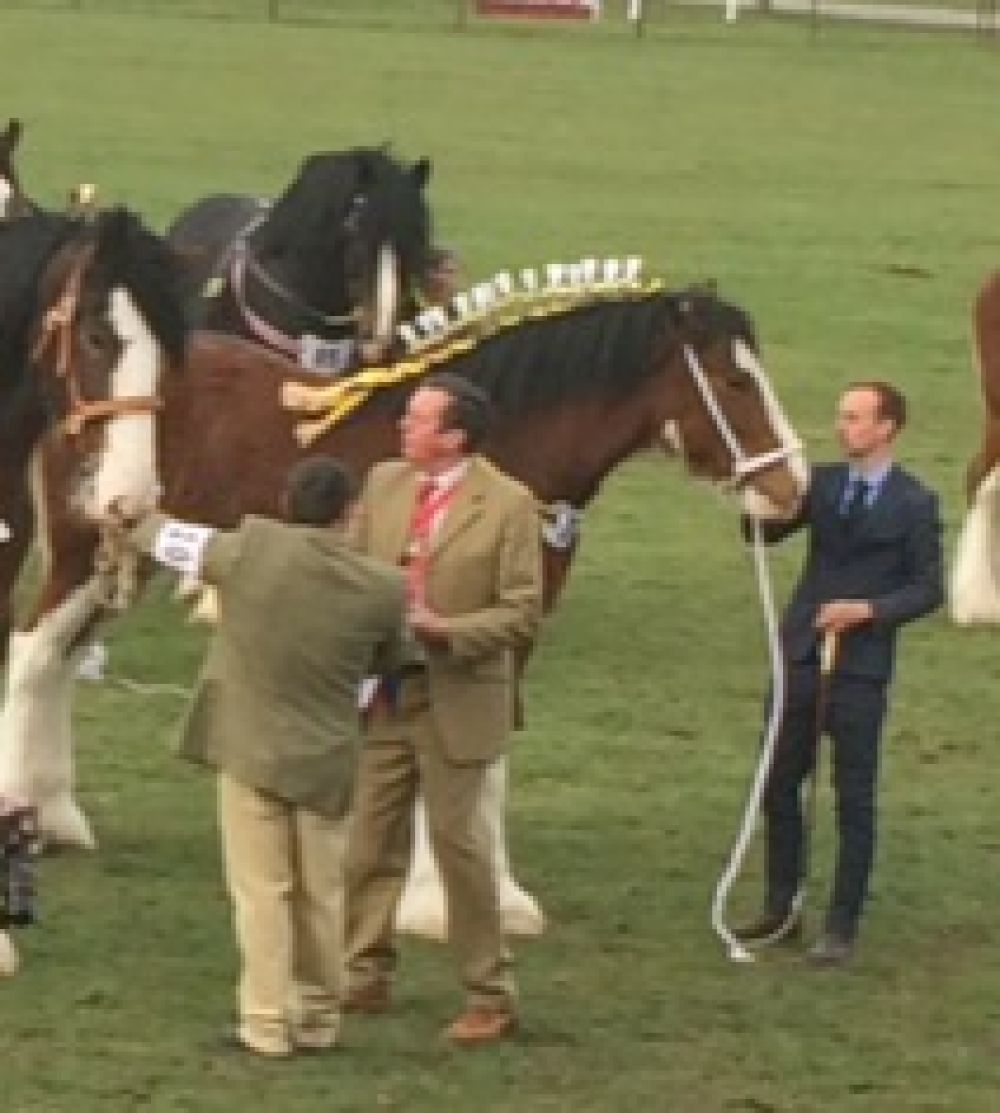 The Master's Christmas Message
As about a quarter of my year has already passed, it's worth me noting here just how much Sue and I have enjoyed the friendship, hospitality and shared experiences in our Company. The December Luncheon at Saddlers' Hall was as well attended as ever and I have had many reports that everyone enjoyed themselves, not least our guests from HMS Prince of Wales.
Some twenty Liverymen were able to join an Affiliates Day on board the aircraft carrier HMS Prince of Wales in Portsmouth on Tuesday 30th November, the sister ship to that so recently representing Great Britain PLC in the Far East and the Mediterranean, and what an amazing visit we had. Entering the Historic Naval Dockyard in Portsmouth through gates built in 1711 (just a few years after this Company came into being...), passing that icon which is HMS Victory, we were then welcomed on board a truly an awe inspiring vessel by the ship's company, all of them were incredibly helpful, knowledgeable and they seemed genuinely pleased to see the affiliates visiting that day. When the next occasion arises to visit HMS Prince of Wales I would encourage you to take it up. It gave me great pleasure to present at the luncheon a Company plaque to continue to cement that friendship.
The luncheon gave me the opportunity to both thank and welcome guests. Firstly, to thank the Ferrie brothers from Scotland who between them have given the Company some 35 years as examiners and to present them with medals and certificates on their retirement; they will be hard to replace and I hope we see them at Livery events for many years to come.

After so many social restrictions over the past 18 months it gave me great pleasure to be able to welcome in person the new Liverymen, Dr Jocelyn Habershon-Butcher, a veterinary surgeon currently working at the British Horse Racing Authority in Newmarket, and Bombardier Stuart Wyss, second in command of the Forge at The King's Troop Royal Horse Artillery.

Court members were pleased also to welcome back Past Master David Short, much recovered after recent illness; David was sporting what he described as a very itchy beard which he intends to remove as soon as his Santa duties are over!

Our carol service was held on Tuesday 14th December in the church of St Michael Paternoster Royal, one of the thirty five churches in the City. Unfortunately, the choir of St Martin in the Fields High School for Girls were not able to be with us, but our very own Chorister Rory Law from Salisbury Cathedral sang his solo pieces beautifully, including a late insertion of Away in a Manger! My thanks go to all who participated or read at that service and we enjoyed a light buffet and some mulled wine afterwards to boost the Christmas spirit.

As the weather deteriorates into proper winter for many, can I take this opportunity to wish all of you a very happy Christmas and a prosperous New Year.

Master's Autumn Diary

It is now a little over six weeks since I was installed as the Master; others who have held the Chair before me let it be known that, such was the pace of life, the time in office would seem to fly by and this has certainly been the case thus far. I feel truly honoured to be holding this position as I have, no doubt, all the 670 plus individuals before me have done so.

My wife and I took the sensible decision to stay overnight in London following the Installation Dinner although I have steeled myself to commute by train from Lincolnshire for subsequent engagements, hoping to save my liver and waistline just a little! Some of the events I have been invited to, or that I could have participated in, have clashed with other commitments, but here follows a flavour of what I have undertaken as Master to represent the Worshipful Company of Farriers in the past weeks.

Seven days after my own Installation I attended Common Hall for election of the next Lord Mayor of the City of London  on the Company's behalf, an ancient tradition and I will meet with the new Lord Mayor In the coming months as well as being able to welcome him to our Livery Banquet at The Mansion House next May; the Clerk has already sent out notice of the date and we are planning a grand affair after a two year forced absence. Covid implications meant that the October Master and Wardens meeting took place via Zoom but I hope that we do not need to fall back on this method again. The Company was represented at the Pan-Livery Autumn Conference at Mercers Hall by Liveryman Chris Bilsland and at the Musicians Company Evensong in St Pauls Cathedral by the Immediate Past Master; both good examples of our continued engagement across the City and I thank those representatives.


​​​​​
​​​​​​​Next for me was the first 'proper' outing to present the Awards for the Best Shod Horse in the Show Hunter Classes at the Horse of the Year Show at the NEC, Birmingham (pictured).

With classes starting at 0720 hours it was an early start but not as early as for the judge, Ian Allison, whom our Awards Secretary had out of necessity contacted only the evening before due to ill health in the booked judge's household.

Anyway, with those timings we were all finished before lunch and Sue and I enjoyed the rest of the day at HOYS catching up with old friends.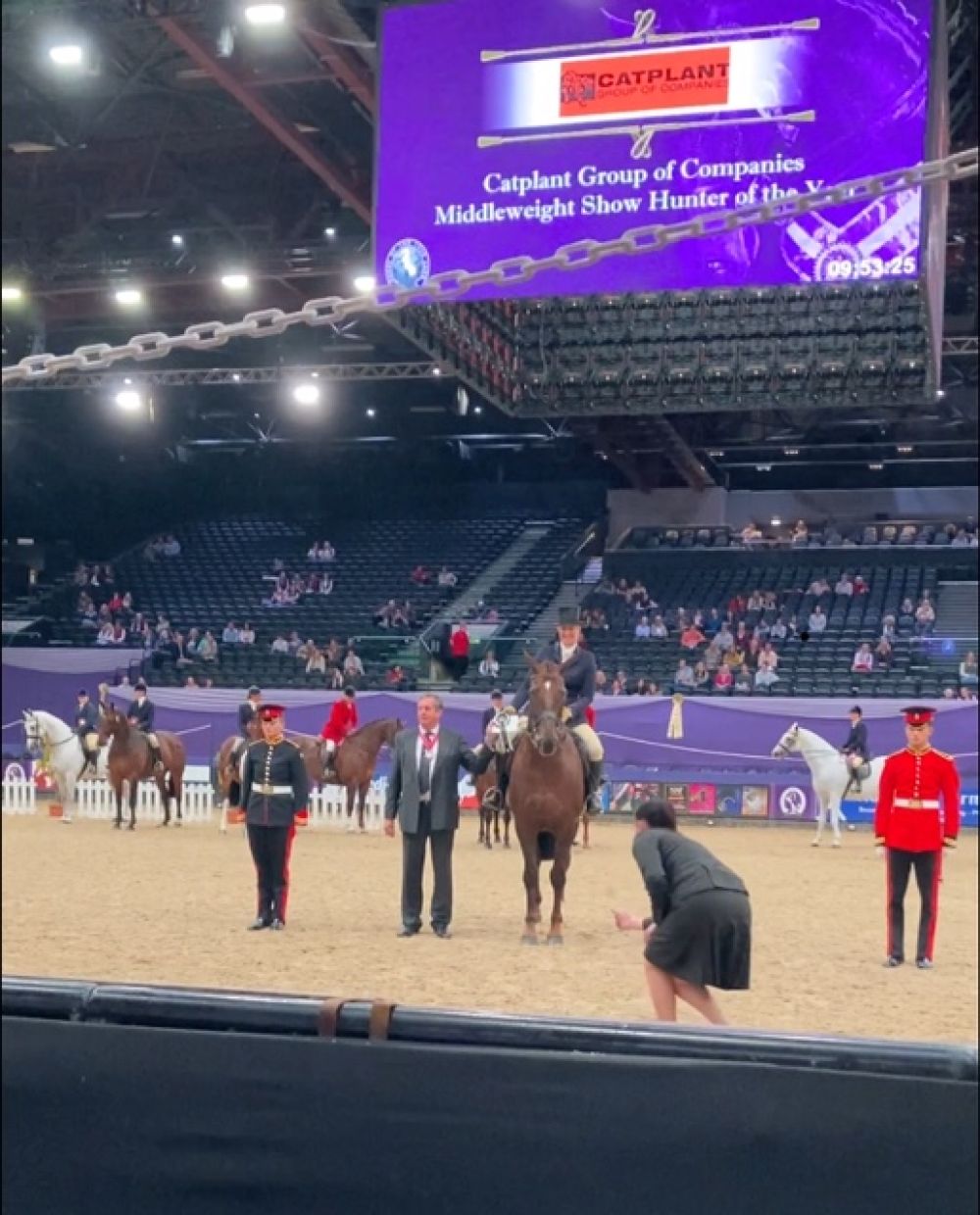 ​​​​​​​The next week was rather busier with three dinners in London in four days. What's the problem you might say, but evening trains back to Lincolnshire cannot always be relied upon and cancellations on one journey saw me return home at 0230. I was accompanied by the Clerk to the Farmers Club Harvest Festival Service in St Martins in the Fields church followed by supper at which I met with the Lady Master of the Farmers Company who had been installed only that afternoon. The next night I was accompanied again by the Clerk this time returning to Vintners Hall for a dinner hosted by the Musicians Company which featured fascinating entertainment by their Young Artist, Jonathan Radford, with his finale being to represent all the musical elements of a rock band – played solo on a saxophone!

An evening off followed before I was joined by some 100 Liverymen for the Livery Dinner on HQS Wellington; it took a while for most to get used to the movement of the Thames as the tide came in but it was a very enjoyable evening in this very different livery venue. Then followed a two week respite, from social events at least but not necessarily from the frequent telephone and email contact which underpins the work of the Company.

The Examinations Board Training and Standardisation event was held at The Horse Trust in Buckinghamshire where I was able to meet once again with senior farriers and veterinary surgeons with whom I have worked previously and get to know others in this important team who were sharing their knowledge and experience for examining the level 3 Diploma as well as the AWCF and FWCF, at levels 5 and 6 respectively.  One last event for me in this report is a meeting I had in London with the Chair of the FRC, Tom Smith, and their Registrar, David Greenwood: there will be ongoing work between our two organisations but all are agreed on the importance of maintaining the excellent relationship established by my predecessor, John Wilsher, in his time as Master.