HRH The Duke of Edinburgh
1921-2021
The Worshipful Company of Farriers wishes to extend its condolences to HM The Queen, the Royal family and in particular HRH The Princess Royal, Past Master of the Company, on the death of HRH The Duke of Edinburgh.

Prince Philip was a remarkable figure whose contribution to the equestrian world alone was unparalleled. As a President of the FEI for 22 years, his contribution to all aspects of equestrianism was huge, in particular carriage driving and the growth of combined driving, later horse driving trials, as an international sport.

Dedicated throughout his life to innumerable charities and good causes, he was also the founder of the Pony Club's mounted games series, 'The Prince Philip Cup' and his Duke of Edinburgh awards helped countless individuals achieve so much. He was the longstanding patron of the British Driving Society and lent his considerable energy, wisdom and support to many other equine organisations.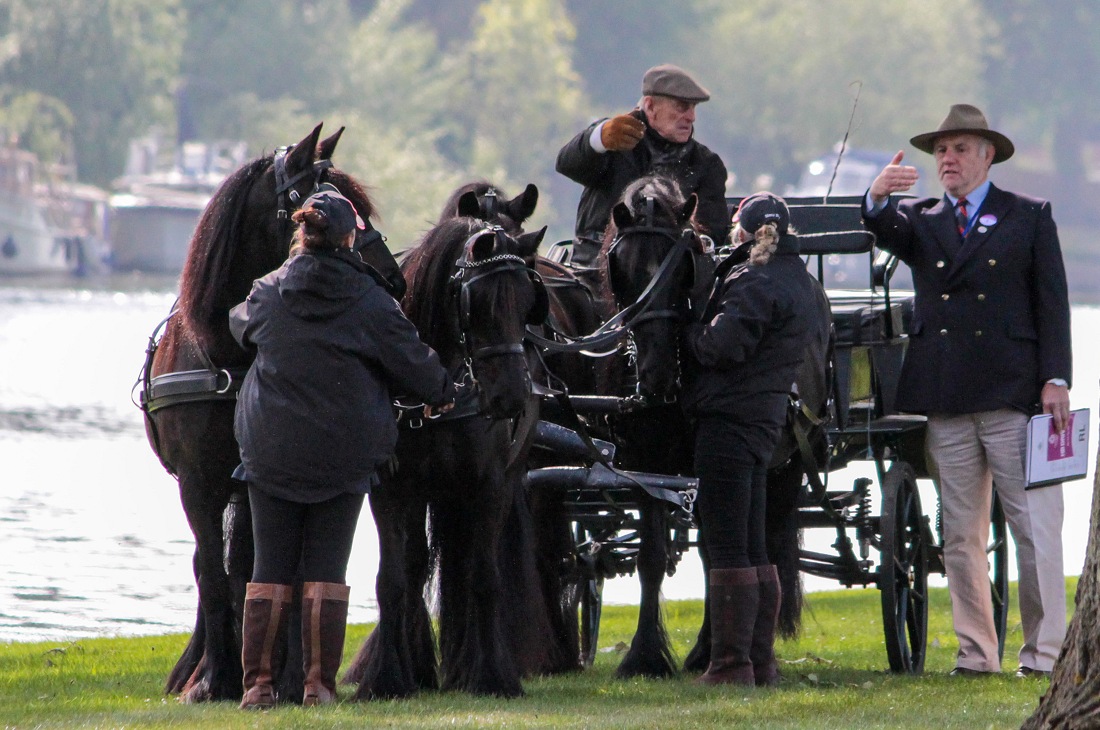 Photograph courtesy of Krisztina Horvath.
Welcome to The Worshipful Company of Farriers
The Worshipful Company of Farriers was founded in 1356 in the City of London at the request of the Mayor to manage those involved with the craft of farriery and to uphold the welfare of the horse through good practice, which it continues to do in the 21st century. In 1674 during the reign of Charles II the Company was granted a Royal Charter and it is number 55 on the register of the City of London Livery Companies.

The Company maintains its close association with its origins and the craft by being the awarding body for the farriery qualifications of Diploma, Associate and Fellow. The Company continues to play a key role in the welfare of the horse by upholding high standards of farriery both in the UK and in overseeing examinations abroad. It also runs an extensive programme of competitions for shoeing and shoemaking, and best shod horse awards.

All Liverymen are also Freemen of the City of London and the Company maintains its ancient link with the City. The membership attracts not only craft farriers, but veterinary surgeons, equestrian professionals, charity executives and individuals with wide ranging backgrounds and interests.
Login
Livery Login
Candidate Login
If you are registering for an Exam and do not have a password, please click here.
Upcoming Events
6th May 2021
Intermediate Military Farrier Course Exam (IMFC)
14th May 2021
Diploma Examinations - Written Paper (UK)
17th May 2021
Diploma Examinations - Practical Examination (UK)
23rd June 2021
AWCF Examinations (Sweden)
13th October 2021
AWCF Examinations (UK)
15th October 2021
FWCF Examinations (UK)
26th October 2021
AWCF Examinations (USA)
9th November 2021
Diploma Examinations (Australia)
10th November 2021
AWCF Examinations (Sweden)
11th November 2021
AWCF Examinations (Australia)
19th November 2021
Diploma Examinations - Written Paper (UK)
22nd November 2021
Diploma Examinations - Practical Examination (UK)
2nd December 2021
Advanced Military Farrier Course (AMFC)