Coat of Arms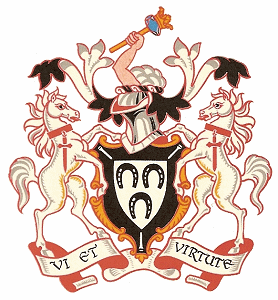 Our armorial bearings were granted by the College of Arms on 11th September 1968, and the description is as follows:
Arms: Argent three Horseshoes on a Bordure Sable with three Nails palewise of the field.
Crest: On a Wreath of the Colours an Arm embowed issuing from Clouds from the sinister side all proper holding in the Hand a Farrier's Hammer Azure hafted and Crowned Or.
Supporters: On either side a Horse Argent gorged with a Collar pendant therefrom a Sword Gules. The red sword suspended from the collar of each supporter refers to the Company's long association with the City of London.
Motto: VI ET VIRTUTE: 'By strength and by virtue'.